Catherine Muñoz, Acting Commissioner
Email Acting Commissioner Muñoz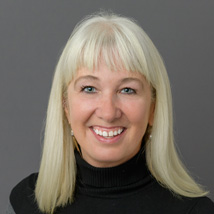 Acting Commissioner Catherine Muñoz is a life-long Alaskan, small business owner, and the mother of two. She served three terms on the City and Borough of Juneau Assembly and was elected in 2008 to the Alaska House of Representatives where she served four terms.
Workforce development has been a key priority throughout Muñoz's public service career. In the Legislature, she served as chairwoman of the Community and Regional Affairs Committee and was a member of the House Finance Committee. She advocated for the University of Alaska vocational training programs, and secured funding for Alaska's first mining simulator. She also sponsored a provision in state law allowing for tax credit contributions to vocational education programs.
Muñoz holds a Bachelor of Arts degree in Political Science from the University of the Pacific, Stockton, California, and is a graduate of the Emerging Leaders Academy at the University of Virginia. She serves on numerous boards and commissions including the Salvation Army Advisory Board, the Juneau Parks Foundation and the Advisory Board of the University of Alaska Southeast.
Acting Commissioner Muñoz is the mother of Matthew and Mercedes, and is married to Juan Muñoz. In 2014 she was adopted into the Raven Coho clan. Her Tlingit name is Kee Nax i Klaa, an honored name given to her by the Kunz family of Juneau, Alaska.