Developing Alaska's maritime workforce
Alaska is a maritime state. The sectors that drive our economy are dependent on direct maritime activity and support.
The waters off Alaska's shores produce more than 60 percent of the nation's seafood harvest. Significant amounts of oil and gas are produced offshore. Communities and consumers depend upon marine lines for fuel, durable goods and consumer products. Ferries, cruise ships and personal watercraft ply our waters filled with commuters, fishers, and sightseers, generating hundreds of millions of dollars annually to Alaska's economy.
All of this requires a skilled and able workforce. That's why industry, education, and government huddled together to work on a shared workforce plan to bring us into the future.
We invite you to read the plan. >>
QUICK FACTS
Maritime workforce includes: seafood harvesting; seafood processing; research, enhancement and management; and marine vessel occupations and support industries.

Alaska ranks third in the nation in per capita maritime jobs.
The maritime industry represents 70,000 jobs in Alaska. Well-paying, lifelong career opportunities exist across Alaska's maritime workforce.
Training and postsecondary education opportunities are available to prepare for these jobs.
Marine shipping is a key economic driver for Alaska:

90 percent of consumer and industrial goods arrive in Alaska by ship
The opening of Arctic transportation routes and resource opportunities will create demand for thousands of skilled maritime workers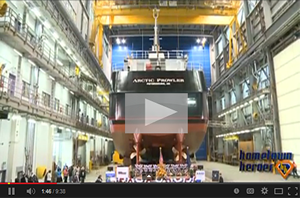 MADE IN ALASKA: The christening of the F/V Arctic Prowler in Ketchikan. Built for an Alaskan workforce, by an Alaskan workforce, right here in Alaska.